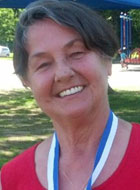 Originally featured in the Fall 2012 newsletter
Carol Hladun, who will celebrate her 70th birthday this September, is a lifelong resident of New Jersey, and currently lives in Highland Park. Carol is a UC Rutgers student enrolled in the School of Arts and Sciences, majoring in Sociology with a GPA of 3.796.
After graduating from Perth Amboy HS in 1960, Carol took a job at The Home News Publishing Company in New Brunswick. She moved to Somerset County in the 1970s, and enrolled as a business student in the newly opened Raritan Valley Community College, which was operating out of trailers at the time. After moving back to Middlesex County, she continued her studies at Middlesex County College, all the while working at increasingly responsible jobs at the Home News.
Carol enjoyed a career of 47 years in the newspaper industry. She started out at the Home News as a receptionist and relief switchboard operator, was promoted first to secretary then to the advertising director. She eventually became the advertising director at the Village Voice and then advertising director at the Star-Ledger. The additional claim her job placed on her time, combined with the demands of several family illnesses, forced her to drop out of college.
Earning her B.A. remained unfinished business for her, and she was determined to finish her studies. In September 1999 she re-enrolled as a part-time evening student at Middlesex County College. She took two courses each semester and back-to-back summer and winter session courses, and graduated with highest honors in January 2004. She moved on to UC/Rutgers as a non-traditional part-time student and continued to attend evening classes until she retired from work. Upon retirement, she fulfilled another lifelong dream: She ran the Marine Corps Marathon in Washington, D.C. Carol feels that the UC deans and advisers with whom she has dealt with provide good support and direction for non-traditional students.
Carol is now seven credits away from graduating with her B.A. and achieving the educational goal of her lifetime. She has cherished the interaction with fellow students, the insight offered by her classmates' different perspectives, and the satisfaction of learning well through hard work. Her career at Rutgers has been guided by one of her favorite quotes, from Abigail Adams (1744 – 1818): Learning is not attained by chance; it must be sought for with ardor and attended to with diligence.