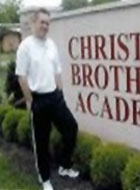 Originally featured in the Spring 2011 newsletter
Life for William Scott McLane has never been easy, but even through his life's mild peaks and severe valleys he decided to return to Rutgers part time in Fall 2008 through the SAS Academic Amnesty program. Scott, as he prefers to be called, describes the first attempt at Rutgers in the late 80's and early 90's as not so well. He recalls after an alcohol related incident at the Busch Campus dorm that he was referred to the Rutgers Alcohol and Other Drug assistance Program (ADAP), but at that time he wasn't ready to get help.
A short time later he recounts that his girlfriend left him, his drinking went on and he awoke fifteen years later. He had become homeless, was living out of a car and at 39, had failing health. He never married, had no children, no career or bank account. He admits he was totally destitute and in the depths of despair. He realized his loneliness most because he was estranged from his family and friends. Scott mentions, "My dad, with a very high IQ, had graduated from St. Peters in Jersey City, secured a job with what is now one of the largest accounting firms in the world, however he died alone in a dark and dingy room over a bar. Alcoholism is not an intellectual exercise and even a high IQ could not deter him from it."
Sadly prior to his father's death he recounts, "My only recollection of him was in handcuffs leaving our home with police officers. It would be impossible to quantify the damage that alcoholism has done to my family, but thankfully, I seem to have been given another chance and my head is clear."
Scott, a few days short of his 46th birthday, is currently an American Studies major with a GPA of 3.4. He proudly noted that although it took 18 years to return, he has six classes until graduation and is thinking about graduate school. A few short months prior to his return to Rutgers he was reunited with his mother before her passing. Scott thanked whatever divine force that allowed his mother to witness his road to recovery. He is celebrating over five years of sobriety and is giving back by speaking at prisons, drug rehabilitation centers and to convicted drunk drivers, besides studying to keep a strong GPA.
He spoke to graduate students at the Rutgers Center for Alcohol Studies and most recently to the senior class at their annual retreat as well as the SADD group at his old high school-Christian Brothers Academy in Monmouth county. He recounts he later found out that his senior year at CBA was financed by Christian Brothers due to his father's loss of employ. "It's been a slow, painful, and humbling journey. It's such a gift to be able to give back."